Corporate News
Welcome to the Faulkner Press Corporate News page. This is where we post items of interest detailing the exciting activities that are taking place within our organization.
Faulkner Press, LLC is a greener product design software and information company dedicated to bringing environmentally sustainable product design into mainstream education in an understandable, empowering and credible way. The company has deep knowledge of product design, Web-based education, software design and customer service experience.
Product News
Faulkner Press, LLC is a software and information service that estimates their product's potential environmental and human impact in a collaborative, learning work space. Customers include...
In a Premier Strategic Relationship, Georgia State University and Faulkner Press, LLC are empowering students to make more Earth sustainable educational decisions. Faulkner Press, LLC is leading the way in helping educators understand and apply environmentally sustainable practices throughout the course design and delivery process. Our system is helping achieve our mission to generate thoughtful product solutions that are not only engaging and beautiful, but just as importantly, to consider their overall environmental impact in a meaningful way.
"Green" eLearning Features & Benefits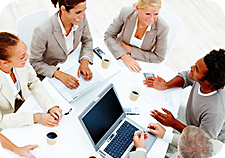 Leading the industry through research on emerging trends and opportunities.
By providing thoughtful leadership, Faulkner Press, LLC can accelerate conversations internally and tap into employees' enthusiasm for sustainable development. Innovation sparked by interactions among educators with different expertise and viewpoints can result in breakthrough products and services. For example, pairing environmental experts, software developers and content gurus can be the source of a product innovation to address core sustainability challenges.